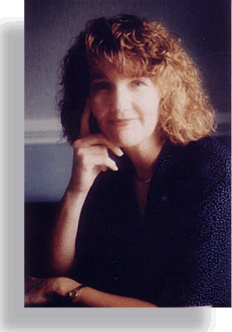 September 18, 1951- April 7, 1995
"Whereas ye know not what shall be on the morrow. For what is your life? It is even a vapour, that appeareth for a little time, and then vanisheth away."  James 4:14
"So teach us to number our days, that we may apply our hearts unto wisdom."  Psalm 90:12
Many might say that at age 43, Elaine Fremont was simply too young to die or that she died before her time. After all, her family, friends and colleagues knew her as a vibrant, intelligent young lady with an outgoing personality and a consistent Christian testimony.
Why would God see fit to take Elaine home to Heaven through an automobile wreck at such a young age? Elaine is indeed in Heaven, for the Bible teaches that "whilst we [believers in Christ] are at home in the body, we are absent from the Lord" (II Corinthians 5:6)
Verse 8 of the same chapter goes on to say, We are confident, I say, and willing rather to be absent from the body, and to be present with the Lord." That is why the Psalmist was able to pen in Psalm 116:15 "Precious in the sight of the LORD is the death of his saints." It is evident from Elaine's life she is one of God's saints.
The Lord made it quite clear in the way He took Elaine that she indeed did not die before her time, either. She was traveling with a good friend when the wreck occurred on an Alabama interstate. Both ladies were belted in and both had air bags, But it was Elaine whom God took.
Elaine would not have wanted her death to go without consequence. In fact, the occasion of one's death, especially so suddenly and unexpectedly, causes those left behind to wisely take a closer look at those things that really matter most.
Where should you spend eternity if you were to die suddenly? You see, death is indeed unavoidable because "all have sinned, and come short of the glory of God" (Romans 3:23). All mankind is under the penalty of sin because "the wages of sin is death," (Romans 6:23). As a result, "it is appointed unto men once to die but after this the judgment" (Hebrews 9:27).
Romans 6:23 continues, "But the gift of God is eternal life through Jesus Christ our Lord." Yes, Jesus Christ paid the penalty of every mans sin when He died on Calvary's cross. "But God commendeth his love toward us, in that, while we were yet sinners, Christ died for us" (Romans 5:8). He also "rose again the third day according to scriptures" ( I Corinthians 15:4), forever conquering death.
You can have the assurance of eternal life today! Here's how: " That if thou shalt confess with thy mouth the Lord Jesus, and shalt believe in thine heart that God hath raised him from the dead, thou shalt be saved. For with the heart man believeth unto righteousness; and with the mouth confession is made unto salvation." (Romans 10:9-10). Simply come to Christ as a sinner, believing He paid the penalty of sin for you, and receive His forgiveness and eternal life — that is salvation!
Child of God ask yourself this question: "If I were to die unexpectedly today, would I be embarrassed to enter God's presence?" We are reminded in I Peter 1:16, of Gods's standard for our lives. It says, "Be ye holy; for I am holy." Ephesians 2:8-10, teaches us that although we are saved by grace through faith and " not of works," we are "created in Christ Jesus unto good works."
Are you falling short of God's standard for you as a believer? John gives the remedy. In I John1:9 he writes, "If we confess our sins, he is faithful and just to forgive us our sins, and to cleanse us from all unrighteousness." Confess your sins to God today, and by His strength, start doing right.
The testimony of Elaine Marie Fremont is from SINGLE VISION- Singles Ministry c/o Hampton Park Baptist Church- 875 State Park Road- Greenville, SC 29609 Hotline: (803) 281-7200
© 2009. No part of this page within No Tears In Heaven may be reproduced or reused in any way, electronic or print, without the expressed permission of the webmaster of No Tears In Heaven or its respective author.