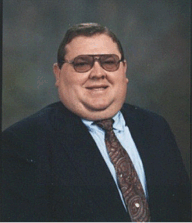 Pastor Brian Harr, originally from Newton, KS has served on the full-time staff of the Bob Jones University Public Safety Department for over 15 years as supervisor and paramedic. He received both his Bachelor of Arts and Master of Arts degrees from BJU in Pastoral Studies and has also served in various capacities at Faith Baptist Church in Taylors, SC where he currently serves as pastoral intern. He has lead two evangelistic mission teams to New York City since 9/11. He married Julie Curtis, originally from Stilesville, IN, and a BJU graduate herself, and has two children, Heather, age 11 and Hannah, age 9.
Trusting God in Troubled Times
by Pastor Brian Harr
Recently our family dog, a white Pomeranian named Fluff, escaped the confines of our yard. A slightly open gate caught his attention, and he couldn't resist the adventure of exploring the once forbidden unknown. Prior to his escape, our family pampered him, fed him regularly, and showered him with all the love a dog could want. What would make a dog leave the safety and security of such a loving home for the uncertain and dangerous world beyond the fence? However, this is exactly what we do when we try to follow our own wisdom or seek after the things of this world instead of trusting in the Solid Rock. Rather than trusting in the safety of the Savior's arms, we seek after the amusements of this world, rummaging through the trash heaps of sin, wondering why we're never filled! But great joy and peace await those who obediently put their complete trust in God and look only to Him for their daily provision. So why is such trust so hard to give? Why do we grope in the darkness trying to find our own way when God is able to lead us in the pleasant pastures of His blessings? Israel did the same thing in their quest for the Promised Land, looking at their own surroundings rather then trusting the God who had miraculously led them every step of the way. In the first chapter of Deuteronomy, Moses reminds the children of Israel of their past failures and need to trust God. A whole generation had died in the wilderness because of their refusal to trust in their great God. Now Moses needed to remind them that because they served a great and mighty God, they must trust His sovereign leading in their lives. We, as Christians, serve the same mighty God and must also learn to trust Him in the midst of our troubling times. In the first chapter of Deuteronomy, Moses gives three reasons why we must trust God in every circumstance of life.
19. And when we departed from Horeb, we went through all that great and terrible wilderness, which ye saw by the way of the mountain of the Amorites, as the Lord our God commanded us; and we came to Kadeshbarnea. 20. And I said unto you, Ye are come unto the mountain of the Amorites, which the Lord our God doeth give unto us. 21. Behold, the Lord thy God hath set the land before thee: go up and possess it, as the Lord God of thy fathers hath said unto thee; fear not, neither be discouraged.
Moses first explains that because God has given us GREAT PROMISES, we must trust Him. Moses' audience knew well the situations to which he alluded in this passage. After God spoke with them from Mt. Sinai, they traveled toward the Promised Land. God led them through the wilderness, miraculously caring for them every step of the way until now they had come to the very doorstep of the land He had promised to Abraham many years before. He was now ready to keep His many promises to these people. All Israel had to do at this point was trust God and obey him – the Promised Land was theirs.
We, too, have been given many promises in God's Word. He has promised forgiveness of sins, a right relationship with the Heavenly Father, and a home in Heaven some day, to name only a few. But all these promises are only for those who learn to trust Him and Him alone for their salvation and daily living. We can be sure that God will keep His promises! The songwriter correctly reminds us:
Standing on the promises that cannot fail,
When the howling storms of doubt and fear assail,
By the living Word of God I shall prevail,
Standing on the Promises of God.
25. And they took of the fruit of the land in their hands, and brought it down unto us, and brought us word again, and said, It is a good land which the Lord our God doeth give us. 26. Notwithstanding ye would not go up, but rebelled against the commandment of the Lord your God. 27. And ye murmured in your tents, and said, Because the Lord hated us, he hath brought us forth out of the land of Egypt, to deliver us into the hand of the Ammorites, to destroy us.
These verses go on to show that you must also trust God because He has given you GREAT BLESSINGS! On their way to this wonderful Promised Land, God had given them water in abundance when there was none in sight. He daily showered them with manna from heaven. Surely He had proven Himself their faithful protector and provider. Now in actually looking over the land, the Israelites have the opportunity to see immeasurable blessings waiting to be claimed. Unfortunately, they chose to look at the apparent obstacles in their way rather than trust in the God capable of removing those obstacles. And in their own disobedience, they even began to blame God for their own faithlessness, calling His blessings for them punishment because of His hatred toward them. How warped man becomes when they fail to trust God.
Now, let's look at our own situation. The Bible is replete with promises of God's blessings ready to be given to those who simply trust Him and obey His commands (Ps. 1:1; 84:12; 119:1-2; Matt. 6:33; Phil. 4:19, et. al.). But God must needs prove those whom He would bless, lest in those blessings, we are tempted to be proud of our own accomplishments. This is why God sends adversities our way. He brings us to the mountains of insurmountable odds and through wildernesses of fearful circumstances so that we will learn to trust in Him and Him alone as our Savior and Guide. He puts giants in our path so that we will realize our need for Him. If we find ourselves chafing against the circumstances of our own life, we must realize that it is through these circumstances that God desires to bring His blessing to us. We cannot have the blessings without the trials. It is God's way of helping us to completely trust in Him so that he can bless us. And many times the very things we see, as problems are actually the blessings God would give to us.
29. Then I said unto you, Dread not, neither be afraid of them. 30. The Lord your God which goeth before you, he shall fight for you, according to all that he did for you in Egypt before your eyes. 31. And in the wilderness where thou hast seen how that the Lord thy God bare thee, as a man doth bear his son, in all the way that ye went, until ye came into this place.
Last of all, we must learn to trust God because He has given us GREAT PROTECTION! Great peace comes as we let God fight our battles for us. He truly is capable of defeating every foe. Oh how quick we are to forget what God has done for us in the past, just like the Israelites. Often men struggle in the battles of life because they don't trust God to give them the outcome they want. But many times that is the very problem. We may have a preset idea of how we want the battle to come out. In short, we want our way, not God's. But we cannot have the blessings of God, and victory in our own lives if we are unwilling to trust God and let Him do as He sees fit. Has He given you great victories over the powers of darkness in your life? If not, perhaps you have not yet trusted him for your salvation. But if you have placed your trust in Christ alone for your eternal salvation, He has already given you the greatest victory you can have. If you can trust Him with your eternal destiny, why cannot you also trust Him for your daily living? More victories are to come if you trust Him and let Him fight your battles. You must rest in His everlasting arms.
Friend, what troubling times are you facing? Have those you trusted failed you? Perhaps you are facing mountains of bills, or valleys of poor health. Whatever your circumstances, are you willing to TRUST GOD in them? Simply trusting God will not make these things go away anymore than the Ammorites would have disappeared if Israel would have trusted God. But when they finally came to trust God and obey him as they went into the Promised Land, God was able to turn those troubling times and seemingly insurmountable obstacles into great blessings as they watched God fight their battles for them. Allow God to work through your circumstance to show Himself strong in your behalf. Remember God's great promises! Realize the great blessings He has already bestowed on you and those He still has in store for you! Rest in His great protection of you. Trusting God means that you allow Him to use your circumstances as projects to make you more like Christ. Trusting God means that you quit trying to get out of the yard as my dog did and realize that the fence God has put around you is a fence of His protection. It means you content yourself in the promises and blessings that you already have in His Word and willingly obey His commands without question. It is only as you rummage outside of the fence that you experience true troubling times.
© 2009.  No part of this page within No Tears In Heaven may be reproduced or reused in any way, electronic or print, without the expressed permission of the Webmaster of No Tears In Heaven, or its respective author.