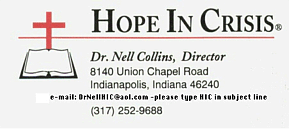 Dr. Nell Collins serves in missionary ministry to cancer patients and others in times of difficulties under the authority and direction of her home church, Colonial Hills Baptist Church. She is involved in evangelism, discipleship and biblical problem solving. She is certified in N.A.N.C. ( National Association for Nouthetic Counseling) . Her ministry involves visiting in homes and hospitals in response to personal referrals, and she maintains an office for those who desire biblical help and guidance on a regularly scheduled basis. She works with students and parents as referred by the school administrator at Colonial Christian School. Dr. Bob Taylor is the pastor/ President of the Board of the Colonial Hills Baptist Mission to Cancer Patients.
She is Founder – Director of the national ministry of HOPE IN CRISIS , trademarked in 1988 by Colonial Hills. It is designed to facilitate practical lay ministries out of local fundamental churches to help hurting people solve problems Biblically. Pastor's wives and ladies are invited to the 3 day seminars held twice a year to train them in effective communication of Biblical hope to other ladies in various crisis and difficulties.
She has a background in the professional field of nursing. Saved in 1965 at the age of 25, she pursued doctrinal course studies at Indiana Baptist College from 1966 – 1971. Her pastoral encounter with cancer made overseas ministry prohibitive, but in combination with her professional background, it has provided insights into the heart needs of individuals facing difficulties in life. She was commissioned by Colonial Hills Baptist Church for full time Christian service in the fall of 1974. She was awarded the Castleton Sertoma Award in 1980, and was Who's Who of American Women in 1981 – 82. A doctorate in the humanities was conferred upon her, honoris causa, by Heritage Baptist University of Indianapolis, Indiana, in the Spring of 1992.
Dr. Collins has co- authored THE VALLEY IS BRIGHT, sharing how God has transformed her life of religious rebellion into submission to the plan and purpose of God through her encounter with cancer. She has authored TO GLORIFY GOD, in which she deals with how an individual, regenerated by the Spirit of God, can be rehabituated, from ungodly patterns of living to godly ones by the Word of God. She has done an audio cassette tape set on BIBLICAL PROBLEM SOLVING in which she outlines 4 easily defined steps of action to biblically solve problems. She has made 4 separate video tapes with attendant booklets regarding the Biblical management of gluttony, understanding marriage, handling stress and developing skills in the area of communication. She has developed many tools to assist folks in communicating biblical hope effectively. She works with ladies on several Christian college campuses a few weeks each year and is a frequent ladies' speaker across the country. She has written articles for Frontline magazine and Todays Christian Senior.
Her primary goal is to minister to the spiritual needs of people, and to see effective results demonstrated in positive ways of conformity to Christ- likeness. She believes that she is to simply, sensitively, and clearly report the counsel of Scripture in assisting people to make those life changes that would exalt God and edify others Hope In Crisis is the trademark of Colonial Hills Baptist Church, Inc. of Indianapolis Indiana.