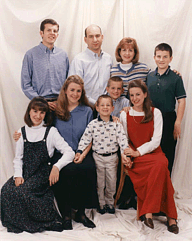 The Naselli Family
"And we know that God causes all things to work together for good to those who love God, to those who are called according to His purpose." (Romans 8:28, NASB)
God Works All Things Together For Good
by
Andy Naselli
In December 1998, my family was shocked to learn that my youngest brother Michael, who was three years old at the time, had cancer — Stage IV Neuroblastoma. The doctors warned us that Michael only had a ten percent chance to live. Over the next three and a half years, Michael endured chemotherapy, radiation, a bone marrow transplant, two major surgeries, monoclonal antibody treatments and countless tests.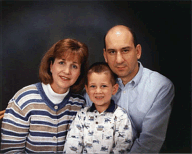 Wendy and Charles Naselli, with son Michael
From June 2000 to October 2001, Michael's cancer was in remission, and for much of the time he felt great. But he started having pain, and we soon learned that his cancer had returned. Hearing this news was as difficult as hearing the initial diagnosis.
The doctors told us that there was nothing more they could do to cure him. After a tenacious final battle with cancer. Michael went home to be with the Lord in heaven on March 30, 2002. Now he is safe in the arms of Jesus and will never experience pain or tears again.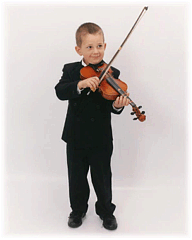 Michael Naselli
God often uses distressing circumstances to compel people to think about their spiritual condition. Whether it is a natural calamity like a earthquake, a man-made calamity like a terrorist attack, or a physical calamity like a little boy's cancer, calamities make us ponder life's brevity and uncertainty.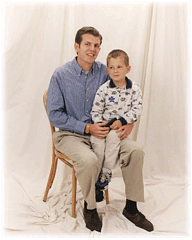 Andy (left) with brother Michael (right)
My brother Michael possesses eternal life because he is a genuine believer in the Lord Jesus Christ. My family desires that every person familiar with Michael's situation takes the time to consider what the Bible teaches about eternal life. Nothing is more important than knowing God personally through His Word and having the assurance that you possess eternal life.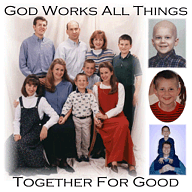 The content for this page is taken from an audio/data CD prepared by Andy Naselli entitled, "God Works All Things Together for Good."  The audio portion includes a gospel presentation and Michael singing Romans 8:28.  The data portion includes a short Video Eulogy prepared by Michael's dad, Charles Naselli;  a detailed journal by Michael's mom, Wendy Naselli;  and pictures of Michael.  For additional information on how to obtain this inspiring and God-honoring CD, please e-mail Wendy Naselli. Wendy.Naselli@juno.com.  You will truly be blessed by the Naselli family's testimony."