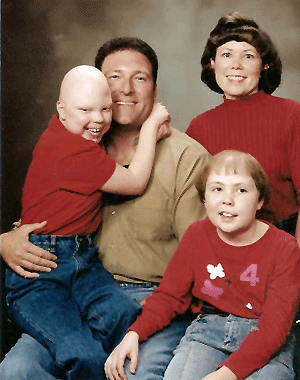 Debra Giovanetti, a native of Nebraska, has lived in Greenville, South Carolina since 1985.  She has 2 sisters and one brother.  
She holds an associate's degree from Greenville Technical College and is married to Jeff Giovanetti, a firefighter.  They are the parents of two pre-teen daughters, Tiffini and Elicia and are members of Faith Baptist Church in Taylors, SC. 
Tiffini and Elicia attend the Treasured Friends ministry at FBC and Elicia attends Hidden Treasure Christian School.
"HOW GOOD GOD IS!"
by
Debra Giovanetti
I grew up in Holdredge, Nebraska and moved to Greenville, SC in the summer of 1985 to attend college.  I planned on attending Clemson University, but began my studies at Greenville Technical College.  There I met and started dating Jeff Giovanetti.  After three years he told me he wanted to marry me, but couldn't unless I was a born again Christian.  I loved him, wanted to marry him and thought "getting saved" sounded easy enough.  So, I prayed a little prayer, thought I was saved, and we were married.
After six years of marriage, I had surgery to remove a tumor and the doctors told me that we would never have children of our own.  When I did become pregnant, we were both thrilled.
Psalm 127:3 says, "Lo, children are an heritage of the LORD, and the fruit of the womb is his reward."
I was working long hours at a church thinking I was doing God's work, but I was not taking care of my health.  Tiffini was born 5 or 6 weeks early after just 20 minutes of labor.  She was born at home on the bathroom floor.  We hadn't planned a home birth.  Tiffini spent two weeks in the Neonatal Intensive Care Unit.  The doctors knew something was wrong, but had no answers for us right then.  They did tell us she would not live long.
During my stay in the hospital I became ill from some cold medicine and went into anaphylactic shock.  I almost died.  However, God was merciful to me and spared my life.
2 Peter 3:9 says, "The Lord is not slack concerning his promises as some men count slackness, but is longsuffering to us-ward, not willing that any should perish, but that all should come to repentance."
The Lord was continuing to work in my life to show me my need for Him.
When Tiffini was 4 months old we received a diagnosis; she was born with Trisomy 10P.  The geneticist gave us what little information he had on the condition and told us to not get our hopes up.  These children usually do not live very long.  When Tiffini was 10 1/2 months old, I gave birth to our second child, Elicia.  She was a healthy child with no complications.
The next few years were frustrating as Tiffini's health declined and we went from doctor to doctor with no answers.  I prayed, but God wasn't answering.  Why?  Where was He when I needed Him?
Isaiah 59:1-2 says, "Behold the Lord's hand is not shortened that it cannot hear, neither his ear heavy, that it cannot hear.  But your iniquities have separated between you and your God, and your sins have hid his face from you that he will not hear."  Isaiah 57:20 says, "The wicked are like the troubled sea, when it cannot rest, whose waters cast up mire and dirt.  There is no peace, saith my God, to the wicked."
I was missing peace.
In 1996, at about 3 years of age, Tiffini was diagnosed with failure to thrive and given no hope.  The doctors sent her home to die.  All day long I would sit and feed Tiffini.  Her severe reflux would cause her to throw up and I'd feed her again.  This continued for three years.
In May of 1999, my husband came home from work one day and said he was leaving.  I was devastated.  Finally, God had broken me.  I panicked and called the church.  I was embarrassed that this had happened to me, but I knew that unsaved family and friends were not going to give me the right counsel.  I saw for the first time my sinful self.  The Lord humbled me and showed me that I had not trusted in Him.  The verse God used was Ephesians 1:4b, "…we should be holy and without blame before him in love."  I am to be holy.  The Lord convicted me about my sins. He showed me I'm a poor wicked sinner in need of a Savior.  That's why Christ had to suffer so much.  He suffered and died for MY sins.  At last I truly submitted my life to the Lord and accepted Him as my personal Savior.
Dr. Jim Berg's seminar, "Changed Into His Image," was taking place at this time and I devoured every moment I had with learning more about God.  He showed me how He loves me, He cares for me, and He will help me.  He showed me how I had put the needs of Tiffini and Elicia above the needs of my husband, how I had not been submissive to Jeff or to Him.
As I was learning and growing in the Lord, He showed me that Tiffini was made exactly as He intended for her to be.  I saw this in Psalm 139:14.
"I will praise thee; for I am fearfully and wonderfully made: marvellous are they works; and that my soul knoweth right well." Psalm 139:14
In John 9 there is a story about a man born blind.  (Tiffini is legally blind.)
John says, "And as Jesus passed by, he saw a man which was blind from his birth.  And his disciples asked him saying, 'Master, who did sin, this man or his parents that he was born blind?'  Jesus answered, 'Neither hath this man sinned, or his parents, but that the works of God should be made manifest in him.'"
God created Tiffini for a purpose, so others can see Christ in her.
I could sense God's nearness now as I faced daily challenges.  In November 1999, after several months of prayer, God directed me to a doctor who could help Tiffini's severe reflux!  By God's mercy, within a year she was healthier and learning to walk.
I, too, was growing spiritually and learning to walk with the Lord.  I was learning about praying and fasting and earnestly asking God for things.  I desired above all else for my marriage to be restored.
Matthew 19:6 says, "What therefore God hath joined together, let not man put asunder."
At last, in September of 2001, Jeff came home.  I now had the opportunity to let Christ be seen in me.  Jeff saw the mistakes I made, too, and was quick to point them out.  Instead of retaliating, I had to learn to humble myself and say, "You're right.  I need to correct that."
One of the main areas in which I seemed to fail was disciplining Elicia.  He said that I was not handling things correctly.  I listened to his advice and took several courses on Biblical child discipline.  In November 2002, I again sought out counsel at church.  Elicia's behavior was worsening and I didn't know where I was making my mistakes.  However, just a few weeks later, Elicia was diagnosed with a brain tumor.  One of the characteristics of children with brain tumors is behavior that is out of control.
On Wednesday, December 18, 2002, Elicia had brain surgery.  The surgeon said that the malignant tumor was attached to the brain stem and he could not get all of it.  I went into the critical care unit to see her.  When she woke up, she started to talk to me and was very confused.  She thought she was at school taking a spelling test and needed a piece of paper.  A short time later, she had a 15-minute seizure and went into a comatose state called posterior fossa.  Elicia was now seriously ill and the doctor said she might not live through the night.
Call upon me in the day of trouble: I will deliver thee, and thou shalt glorify me."  Psalm 50:15
I prayed, asking God to spare my precious little child's life.  I loved Elicia and wanted her to live.  I knew the Lord was the only One who could help her.  I knew if He chose to take her home to be with Him that all her suffering in this life would be over.  What more could I want for my child?  No more suffering, no more pain and no more crying.  But yet, I wanted her to live.  God never makes mistakes.  He knows what is best for us and He is in control.  I had to trust Him.
I stayed in the ICU waiting room most of the night waiting to see if Elicia would improve.  As I waited, I prayed and read my Bible.  Still, when thoughts of life without Elicia would overwhelm me, I would become distraught.  About midnight I received a phone call there in the ICU waiting room.  Who could that be?  It was my deacon's wife calling to see how Elicia was.  She stayed on the phone with me, assuring me that God was there with me, that He loves Elicia and would do what was best for her.  She prayed with me and read Psalm 121:3b:
"He that keepeth thee will not slumber."
The Lord will be watching over Elicia all night long!  Elicia made it through the night, but little did we know our troubles were not over.
Beth Barnard wrote a song, Little Flowers, and here are the lyrics.
Little flowers never worry
When the wind begins to blow.
And they never, never cry
When the rain begins to fall.
Oh, it's wet and oh so cold,
Soon the sun will shine again.
Then they'll smile unto the world,
For their beauty to behold.
When the clouds begin to gather
And the storm begins to blow,
Little flowers don't complain,
Though they're tossing to and fro.
Oh, I guess they've learned the secret,
They don't fret because they know,
If it never, never rained,
Then they'd never, never grow.
So, let it rain, let it rain, let it pour,
Little trouble keep on knocking at my door,
If we'll learn the right from wrong,
It will help to make us strong.
Lord, please help us learn the secret,
Even little flowers know,
If it never, never rains
Then we'll never, never grow.
Elicia had developed complications; a staph infection in her shunt and bacterial meningitis produced a high fever.  Yet she was still alive!  God's love was sufficient for my greatest need, salvation, and surely His love is sufficient for this tragedy in my life.
"It is of the LORD's mercies that we are not consumed, because his compassions fail not.  they are new every morning; great is thy faithfulness."  Lamentations 3:22
One morning while having my devotions, I claimed a verse for Elicia.  It was Jeremiah 17:14.
"Heal me, O LORD, and I shall be healed; save me, and I shall be saved: for thou art my praise."
I was about to learn that the good that the Lord brings about is often different from the good that we envision.  I was about to see a wonderful illustration of the truth of Isaiah 55:9, which says:
"For as the heavens are higher than the earth, so are my ways higher than your ways, and my thoughts than your thoughts."
Elicia continued to make progress each day.  Her high fever caused by the bacterial meningitis had killed the remaining tumor cells!  Praise the Lord!
Jeff's 99 year old grandfather told us to just take that little girl home and raise her because the Lord had healed her.  However, every doctor was advising us to allow Elicia to undergo radiation and chemotherapy in order to increase her chances of survival.  The type of tumor she had is extremely aggressive and if it returned would be nearly impossible to get rid of.  I left the decision in Jeff's hands and he chose to do the treatments.
We have a cousin who works at St. Jude Children's Research Hospital in Memphis, TN.  After talking with him and the doctors at St. Jude, we prayed and decided to apply to St. Jude for Elicia to receive treatments there.  According to their guidelines, she had to begin their course of treatment within 28 days of surgery.  In spite of many obstacles, God opened the way for Elicia to go and she arrived at St. Jude on the last day they would accept her.
"O, give thanks unto the Lord for He is good."  Psalm 118:1
There were many roller coaster events during our 9-month stay at St. Jude Hospital.  Yet, God never left us alone.  He was there to comfort and guide us each step of the way.
A well-known preacher once said, "Eternity will lend a perspective to all of our difficulties that we cannot always see right now.  God can give us eternity's view on the things that are going on in our lives.  Take the things that God IS doing for you in your life and focus your attention on them.  Thanksgiving will relieve the anxiety, the stress, and the depression in your life.  As you refocus your attention away from your problems and direct your attention to God and thank Him, you think about what He has done and you see how GOOD God is."
(At this writing, Tiffini is 12 years old.  She faces the challenges of a weak immune system and requires much of the care you would give to a baby.  She can walk with assistance, loves to give sweet hugs, listen to her musical toys, and enjoys attending her special class, Treasured Friends, at church.  Elicia is 11 years old and faces the challenges of slowed speech and impaired balance.  She can walk with a walker and attends school at Hidden Treasure Christian School.  She takes daily shots of growth hormone to help restore her normal growth.  Elicia charms everyone with her sweet dimpled smile!)
To learn more about Elicia's Journey visit: http://www.notearsinheaven.com/NTIH/Giovanetti/index.htm
© 2006. No part of this page within No Tears In Heaven may be reproduced or reused in any way, electronic or print, without the expressed permission of the webmaster of No Tears In Heaven, or its respective author – Debra Giovanetti at d_giovanetti@hotmail.com