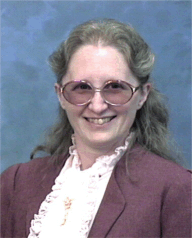 Julie Harr, the former Julie Curtis, was born in Indiana to godly parents. She grew up on a farm in Little Point, Indiana and was saved at the age five following a Sunday evening church service. As a teenager she surrendered her life to the Lord for full time Christian service. Julie attended Pillsbury Baptist Bible College and Bob Jones University, receiving her training as a Licensed Practical Nurse and has a B.S. degree in Practical Christian Training. She is married to Brian Harr and they are the parents of two daughters, ages 12 and 10. They are active members of Faith Baptist Church in Taylors, SC.
Peace in the Valley
by
Julie Harr
"Trust in the Lord, and do good: so shalt thou dwell in the land, and verily thou shalt be fed. Delight thyself also in the Lord; and he shall give thee the desires of thine heart. Commit thy way unto the Lord ; trust also in him; and he shall bring it to pass. And he shall bring forth thy righteousness as the light, and thy judgment as the noonday. Rest in the Lord, and wait patiently for him." Psalm 37:3-7a
At the age of twenty, as I lay unconscious, due to an increase of cerebrospinal fluid on the brain, my sister read these comforting words to me from Psalm 37. Though my life was in danger, there was nothing to fear, for I had trusted Christ as my Savior at the age of five. The Lord had already carried me through the valley of the shadow of death, when first diagnosed with Hydrocephalus, at the age of twelve. Now, in the midst of my study at BJU, the Lord chose to walk me through another valley. What a comfort to rest in the knowledge of God's perfect will. I had claimed His promise "that all things work together for good to them that love God, to them who are the called according to his purpose". (Romans 8:28) I knew that "the peace of God, which passeth all understanding" would keep my heart and mind through Christ Jesus. (Philippians 4:7)
Perhaps you are walking through a valley today. Whether it's darkness or despair, trial or tribulation, confusion or war, pain or death, so many things can cause you to fear. How can you find peace in the midst of the storms of life?
Take heart, my friend. In Christ, you can find grace and peace. Is your heart at peace with God? Have you, by grace, through faith, accepted His free gift of salvation? (Ephesians 2:8-9) You will find that grace and peace go hand in hand. One cannot have peace in his heart unless he is experiencing the grace of God. If you know Him as your Savior, you have access to all the grace you will need to face the most fearful circumstances.
Are you facing darkness or despair today? God offers "light to them that sit in darkness…to guide our feet into the way of peace." (Luke 1:79)
Are you overcome with trials and tribulations? "These things have I spoken unto you, that in me ye might have peace. In the world ye shall have tribulation: but be of good cheer; I have overcome the world." John 16:33
Are you confused? "God is not the author of confusion, but of peace." (I Corinthians 14:33) "The peace of God which passeth all understanding shall keep your hearts and minds through Christ Jesus." (Philippians 4:7) "Thou wilt keep him in perfect peace, whose mind is stayed on thee: because he trusteth in thee." (Isaiah 26:3)
Are you weak or in pain? "My grace is sufficient for thee: for my strength is made perfect in weakness." (II Corinthians 12:9)
Are you searching for peace today? You can find peace in Christ alone. "Peace I leave with you, my peace I give unto you: not as the world giveth, give I unto you. Let not your heart be troubled, neither let it be afraid." (John 14:27) Through all the storms of life you can find peace as you rest in the Lord.
Jesus I am resting, resting
In the joy of what Thou art:
I am finding out the greatness
Of Thy loving heart.
Thou hast bid me gaze upon Thee,
And Thy beauty fills my soul,
For by Thy transforming power,
Thou hast made me whole.
O how great Thy loving kindness,
Vaster, broader than the sea!
O how marvelous Thy goodness,
Lavished all on me!
Yes, I rest in Thee, Beloved,
Know what wealth of grace is thine,
Know Thy certainty of promise,
And have made it mine.
Simply trusting Thee, Lord Jesus,
I behold Thee as thou art,
And Thy love, so pure, so changeless,
Satisfies my heart;
Satisfies its deepest longings,
Meets, supplies its every need,
Compasseth me round with blessings:
Thine is love indeed!
Ever lift Thy face upon me
As I work and wait for Thee;
Resting 'neath thy smile, Lord Jesus,
Earth's dark shadows flee.
Brightness of my Father's glory,
Sunshine of my Father's face,
Keep me ever trusting, resting,
Fill me with Thy grace.
—-Jean S. Pigott