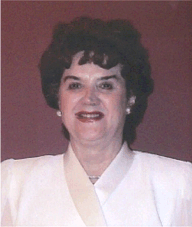 Shirley Whaley Magnuson is a native of Albion, Michigan. After attending Bob Jones University, she married Erwin Whaley in 1955. They reared five children. God took Erwin home to heaven on June 1,1997. Shirley and Erwin's second child "Chris" was diagnosed with Lou Gehrigs disease in 1982. Chris went to be with the Lord when she was 24 years of age. As a result of her death, a ministry to hurting people was founded.
Shirley is an inspirational speaker, a writer, publisher and director of the Chris Whaley Ministries. The ministry sends literature and books to those hurting from the wounds and complexities of life. They have a monthly support group that meets in their home to help those in the loss of loved ones.
The book "Chris's Miracle," written by Shirley has touched thousands of lives. It is a moving account of Chris's struggle with Lou Gehrig's disease and her ultimate victorious triumph home – going to Heaven. Shirley has recently remarried to John Magnuson. John is very supportive and assists her in the ministry. They reside is Greer, South Carolina.
If you would like information on how to obtain the book "Chris's Miracle" please write to Chris Whaley Ministries – Post Office Box 16476 Greenville, South Carolina 29606 or you may communicate by e- mail at: shirley@chriswhaleyministries.org.
God's Song-Producing Storm
by
Shirley Whaley Magnuson
That the trial of your faith, being much more precious than of gold that perisheth, though it be tried with fire, might be found unto praise and honor, and glory at the appearing of Jesus Christ:" 1 Peter 1:7
I was reading a bulb-planting chart for flowering bulbs the other day and was reminded that some bulbs, in order to develop strong stems and flowers, need a long, cold winter. Hyacinths, daffodils, and tulips need a pre-cooling of several weeks in order to display their beautiful blossoms and foliage. This, to me, is a wonderful illustration of the Christian life.
The Christian growth process needs the cold storms of winter to produce a strong depth and sweetness of beauty. These storms in life send us to our knees in prayer and to the Word of God, which produce a song of exalting the Lord Jesus Christ.
It was a great storm in my life several years ago when our twenty-four year old daughter was diagnosed with Lou Gehrig's Disease (ALS). Chris, the second of our five children, was a vibrant, joyful Christian. She had graduated from Bob Jones University and was teaching in Omaha, Nebraska. She was also working on her master's degree in education. She came home to Greenville, SC where she received her diagnosis of Lou Gehrig's Disease (ALS).
It was a difficult four months as we watched this beautiful, vivacious young woman deteriorate physically into a limp rag doll. God took her home to Heaven four months and four days after she was diagnosed.
How I missed Chris in the days that followed. One night I could not sleep. I went into our office, got down on my knees, and began to pour out my heart to the Lord. I said, "Lord, why did you take Chris?" as tears streamed down my cheeks and onto the chair where I knelt. "Lord, I will not let You go until You tell me why! It seems she left so many things unfinished! She wanted to marry! I found all those books in her things on preparing a young woman for marriage. She wanted to finish her master's degree. She loved children and was a fantastic teacher! Please Lord, I will not let You go until You tell me why!"
I became still and waited. In the quietness there came the response. It was not audible, but was as real as if I could touch His very presence. "Shirley, I gave all the things to Chris that her heart ever desired when I brought her here to Heaven. She is very happy here. She loves you and her father very much, but she has no desire to return there. She is complete here in this perfect place that I have prepared for those who love Me." Then there was a pause and the Lord ended our time with a question. "Could you have given Chris more down there than I have given to her here?" I responded, "Dear Lord, please forgive me. No, I could not have given her more. I will never ask You 'Why' again!" Chris has been in Heaven for some time now, but I have never asked the Lord again "Why?"
Since that time I have said goodbye to other loved ones. God gave us a ministry to people who are hurting from the loss of a loved one. One of our outreaches is a monthly dinner and support ministry to those in bereavement. At one of our recent meetings I penned a letter as though a loved one in Heaven wrote it. It went as follows:
My Dear Precious Loved One,
Oh what an awesome, joyful, blessed, beautiful place this is here. Since I have arrived, I have just wandered the streets and gardens with wonder and joy. The opulence here is beyond description! I am continually exclaiming what a joy it is to be in this perfect place of love with my precious Saviour. It is like Christmas everyday here. There is so much beauty to be enjoyed. The music is more glorious than anything you have ever heard is. I want to tell you how happy I am that my mission was completed there on earth and my heavenly walk has begun. The angelic beings are glorious, but my Saviour is the best of all. We walk and talk together each day. My joy is complete! My message to you is to tell you to faithfully serve our blessed Saviour, for when you arrive here you will be sorry you did not do more for Him. Just be happy there and serve the Lord with your whole heart and life and soon you will arrive here and we will have a grand reunion. This year may be difficult for you down there since I have come on home, but you just keep on keeping on and we will soon be together in this blissful place. Be sure to know that I love you and want God's best for you; I know you will do a good job with the rest of your mission.
Love from above,
Your loved one
If you have lost someone very dear to your heart, this is the time to be certain that you know the Lord Jesus Christ as your personal Savior. (There are pages on this web site that explain the way of salvation clearly and thoroughly.) If you have this relationship with Him, the promise of Psalm 34:18 is for you. "The Lord is nigh unto them that are of a broken heart;." He will bind up your broken heart and you will come forth to finish your mission with joy unspeakable and full of glory. "He healeth the broken in heart and bindeth up their wounds." (Psalm 147:3)
May God bless you dear one. If I can be of help to you, please e-mail me at shirley@chriswhaleyministries.org.
© 2009.  No part, content or code, of this page within No Tears In Heaven may be reproduced or reused in any way, electronic or print, without the expressed permission of the webmaster of No Tears In Heaven, or its respective author.