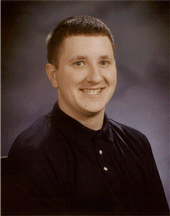 Brief History Of No Tears In Heaven
On February 2nd 2000 my youngest son, Luke 12 years old, was coming out of the shower and suffered sudden cardiac death. My wife, Carol, was home at the time and immediately began to administer CPR until the arrival of the EMS team. The event left Luke with a lack of oxygen to the brain causing what is medically referred to as anoxia.
To detail The ensuing events from the emergency room, to learning our son suffered a traumatic brain injury, the long term affects it would have on our family, including medications foreign to every day family understanding, combined with the necessity of intensive but important rehabilitation and the monitoring of Luke's heart with the implantation of a pacemaker is better served in Luke's area of testimony.
Shortly after Luke came home from the hospital, in May of 2000, the Lord impressed upon me to find a way of sharing with others the grace and mercy of God when a time of tragedy enters a person's life. The scriptural reference of II Corinthians 1:4 served as a reminder to me that even in our tribulation — when God comforts us "… we may be able to comfort them which are in any trouble, by the comfort wherewith we ourselves are comforted by God." From this thought the idea of No Tears In Heaven came into existence.
The primary purpose of the Website is to evangelistically reach out to people who are hurting, and uplift the Sufficient Christ to a suffering world. Sharing hope through God's Word towards those who suffer, is not merely a second hand burden, but a first hand reality with the participants in this outreach.
Initially No Tears In Heaven had 4 testimonies but continues to increase with testimonies comprised of families and individuals sharing personal stories of God's grace and mercy in their lives during times of trouble.
There is a testimony of young woman who at the age of 2 years old along with her mother was critically burned in a house fire. In another testimony a mother shares the peace of God when her son was found to be diagnosed with leukemia. Other testimonies deal with a mothers loss of her newborn, a family experiencing Lou Gehrig's disease, a woman born with cerebral palsy, a wife losing her husband to Hodgkin's disease, individuals who suffered tragic accidents leaving them paralyzed, a husband and wife while fighting fires were suddenly swept up into eternity by the unforeseen direction of the fire, a family with two children born with downs syndrome, a wife who suffered a subarachnoid bleed from a ruptured aneurysm, a young man who was born with Arthrogryposis Multiplex Congenita and is now an accomplished artist, another testimony of a family who's youngest son , 3 year old Michael acquired cancer – Stage IV Neuroblastoma, two ladies who are cancer survivors and many other stories reflecting the " … peace of God which passeth all understanding."
In reflection, No Tears In Heaven has come from circumstnaces beyond understanding but not with out peace. A ministry born of unusual circumstances.
No Tears In Heaven has reached out globally bringing the Gospel in a most unusual manner, via the Internet, to individuals and families who otherwise may not have been receptive to hearing the True Gospel of Jesus Christ.
The validation of this observation is evident by the many Guestbook entries, of the Website. I have always regarded the guestbook area as the heartbeat of the Website but Jesus Christ is the heart.
Today No Tears In Heaven has over 53 participants, including pastors, educators, individuals and families ministering by way of testimonies and sharing the Gospel.
Additionally No Tears In Heaven has been recognized by numerous medical organizations – placing the No Tears In Heaven link on their website- as a Website that brings hope in difficult circumstances.
No Tears In Heaven, has been added as a link on a major Fortune 500 corporation's intra-net, bringing daily hope and encouragement, globally, to its nearly 350,000 employees.
The journey for No Tears In Heaven has been a learning experience resting in 3 biblical principles:
There is no challenge too great for God, no circumstance that surprises God, and no crisis He does not care about.
" Ah Lord GOD! behold, thou hast made the heaven and the earth by thy great power and stretched out arm, and there is nothing too hard for thee:" Jeremiah 32:7
" Thou knowest my downsitting and mine uprising, Thou understandest my thoughts afar off. Thou compassest my path and my lying down, and art acquainted with all my ways. For there is not a word in my tongue but, lo, O Lord, Thou knowest it altogether"   Psalm 139: 2-4
"Are not five sparrows sold for two farthings, and not one of them is forgotten before God? But even the very hairs of your head are all numbered. Fear not therefore: ye are of more value than many sparrows." Luke 12:6-7
If you have not come to the truth of eternal peace found in the Gospel of Jesus Christ please take a moment to read the Promise of Hope found on this Website. Its truth will give you assurance that there are No Tears In Heaven.
Cliff Gribick
Founder of No Tears In Heaven
Philippians 4:7