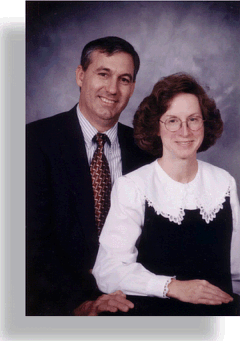 Dear Friend,
I was diagnosed with breast cancer in March of 2004. I had a bilateral mastectomy with reconstruction, and chemotherapy. I will be taking Tamoxifen for the next five years.
This journey has not been easy, but what I have learned about my God, my family, and my friends has made it worth it. The cancer has become a priceless gift for which I am very thankful.
The following verses from the Holy Bible gave me such a peace and comfort. I am sharing them with you and hope they will help you through your journey. If you have any questions about how to deal with your current time of testing I would be happy to be of help and may be contacted by e-mail at dsbishop.1@juno.com
Sincerely
Susan Bishop
A special note to the vistor of No Tears In Heaven the following Peace Be Still message is available in a devotional , "Blessings For You" written by Susan Bishop. If you would like a copy for yourself or a friend please contact Susan at her e-mail address.
"Be of good courage, and he shall strengthen your heart, all ye that hope in the LORD.
Psalm 31:24
Blessings For You
by
Susan Bishop
"For God so loved the world, that he gave his only begotten Son, that whosoever believeth in him should not perish, but have everlasting life."
John 3:16
( This is the foundation of my faith in God and my Hope for the future as I am trusting in Jesus Christ alone for forgiveness of all my sins and eternal life.)
God is limitless in His love; He is too loving to ever reject me.*
But God commendeth his love toward us, in that, while we were yet sinners, Christ died for us.
Romans 5:8
*this statement about one of God's attributes and the eight following attributes are taken from a study by Pat Berg.
"The LORD hath appeared of old unto me, saying, Yea, I have loved thee with an everlasting love: therefore with lovingkindness have I drawn thee."
Jeremiah 31:3
"Who shall separate us from the love of Christ? shall tribulation, or distress, or persecution, or famine, or nakedness, or peril, or sword? As it is written, For thy sake we are killed all the day long; we are accounted as sheep for the slaughter.Nay, in all these things we are more than conquerors through him that loved us.For I am persuaded, that neither death, nor life, nor angels, nor principalities, nor powers, nor things present, nor things to come, Nor height, nor depth, nor any other creature, shall be able to separate us from the love of God, which is in Christ Jesus our Lord."
Romans 8: 35-39
God is limitless in His compassion; He is too compassionate to ever be uncaring.
"In all their affliction he was afflicted, and the angel of his presence saved them: in his love and in his pity he redeemed them; and he bare them, and carried them all the days of old."
Isaiah 63:9
"But though he cause grief, yet will he have compassion according to the multitude of his mercies. For he doth not afflict willingly nor grieve the children of men."
Lamentations 3:32-33
God is limitless in His provision; He is too generous to ever withhold anything that I need.
"But my God shall supply all your need according to his riches in glory by Christ Jesus."
Philippians 4:19
"For the LORD God is a sun and shield: the LORD will give grace and glory: no good thing will he withhold from them that walk uprightly."
Psalm 84:11
God is limitless in His power; He is too powerful to ever fail.
"And what is the exceeding greatness of his power to us-ward who believe, according to the working of his mighty power, Which he wrought in Christ, when he raised him from the dead, and set him at his own right hand in the heavenly places…"
Ephesians 1:19-20
"Ah Lord GOD! behold, thou hast made the heaven and the earth by thy great power and stretched out arm, and there is nothing too hard for thee:"
Jeremiah 32:17
God is limitless in His knowledge; He is too knowledgeable to ever be caught by surprise.
"O Lord, thou hast searched me, and known me. Thou knowest my downsitting and mine uprising, thou understandest my thought afar off.Thou compassest my path and my lying down, and art acquainted with all my ways.For there is not a word in my tongue, but, lo, O LORD, thou knowest it altogether."
Psalm 139:1-4
God is limitless in His presence; He is too near to ever be late in coming to my rescue.
"God is our refuge and strength, a very present help in trouble."
Psalm 46:1
"Whither shall I go from thy spirit? or whither shall I flee from thy presence? If I ascend up into heaven, thou art there: if I make my bed in hell, behold, thou art there. If I take the wings of the morning, and dwell in the uttermost parts of the sea; Even there shall thy hand lead me, and thy right hand shall hold me. If I say, Surely the darkness shall cover me; even the night shall be light about me."
Psalm 139:7-11
God is limitless in His wisdom; He is too wise to ever make a mistake.
"As for God, his way is perfect: the word of the LORD is tried: he is a buckler to all those that trust in him. For who is God save the LORD? or who is a rock save our God? It is God that girdeth me with strength, and maketh my way perfect."
Psalm 18:30-32
"O the depth of the riches both of the wisdom and knowledge of God! how unsearchable are his judgments, and his ways past finding out!"
Romans 11:33
"Great is our Lord, and of great power: his understanding is infinite."
Psalm 147:5
God is limitless in His holiness; He is too holy to associate with evil
"For such an high priest became us, who is holy, harmless, undefiled, separate from sinners, and made higher than the heavens…"
Hebrews 7:26
"And one cried unto another, and said, Holy, holy, holy, is the LORD of hosts: the whole earth is full of his glory."
Isaiah 6:3
"O Lord GOD, thou hast begun to shew thy servant thy greatness, and thy mighty hand: for what God is there in heaven or in earth, that can do according to thy works, and according to thy might?"
Deuteronomy 3:24
"O Lord, thou art my God; I will exalt thee, I will praise thy name; for thou hast done wonderful things; thy counsels of old are faithfulness and truth….
For thou hast been a strength to the poor, a strength to the needy in his distress, a refuge from the storm, a shadow from the heat, when the blast of the terrible ones is as a storm against the wall."
Isaiah 25:1, 4
"The LORD also will be a refuge for the oppressed, a refuge in times of trouble. And they that know thy name will put their trust in thee: for thou, LORD, hast not forsaken them that seek thee."
Psalm 9:9-10
"Be still, and know that I am God:…"
Psalm 46:10a
"I will praise thee; for I am fearfully and wonderfully made: marvellous are thy works; and that my soul knoweth right well….How precious also are thy thoughts unto me, O God! how great is the sum of them! If I should count them, they are more in number than the sand: when I awake, I am still with thee."
Psalm 139:14,17-18
"What time I am afraid, I will trust in thee. In God I will praise his word, in God I have put my trust; I will not fear what flesh can do unto me."
Psalm 56: 3-4
"And we know that all things work together for good to them that love God, to them who are the called according to his purpose."
Romans 8: 28
"Trust in the LORD with all thine heart; and lean not unto thine own understanding. In all thy ways acknowledge him, and he shall direct thy paths."
Proverbs 3: 5-6
"Be careful for nothing; but in every thing by prayer and supplication with thanksgiving let your requests be made known unto God. And the peace of God, which passeth all understanding, shall keep your hearts and minds through Christ Jesus."
Philippians 4:6-7
"Thou wilt keep him in perfect peace, whose mind is stayed on thee: because he trusteth in thee. Trust ye in the LORD for ever: for in the LORD JEHOVAH is everlasting strength:"
Isaiah 26:3-4
"Peace I leave with you, my peace I give unto you: not as the world giveth, give I unto you. Let not your heart be troubled, neither let it be afraid."
John 14:27
"For which cause we faint not; but though our outward man perish, yet the inward man is renewed day by day. For our light affliction, which is but for a moment, worketh for us a far more exceeding and eternal weight of glory; While we look not at the things which are seen, but at the things which are not seen: for the things which are seen are temporal; but the things which are not seen are eternal."
II Corinthians 4:16-18
"Let not your heart be troubled: ye believe in God, believe also in me. In my Father's house are many mansions: if it were not so, I would have told you. I go to prepare a place for you. And if I go and prepare a place for you, I will come again, and receive you unto myself; that where I am, there ye may be also. And whither I go ye know, and the way ye know. Thomas saith unto him, Lord, we know not whither thou goest; and how can we know the way? Jesus saith unto him, I am the way, the truth, and the life: no man cometh unto the Father, but by me."
John 14: 1-6
What Cancer Cannot Do
Author Unknown
Cancer is so limited.
It cannot cripple love.
It cannot shatter hope.
It cannot corrode faith.
It cannot destroy peace.
It cannot kill friendship.
It cannot suppress memories.
It cannot silence courage.
It cannot invade the soul.
It cannot steal eternal life.
It cannot conquer the Spirit.
To know more about the peace of which Susan writes please visit the Promise of Hope.
All textual and pictorial content on this page is taken from the "Blessings For You" booklet – a compilation of Bible verses organized by Susan Bishop and a study guide by Pat Berg – used with permission.. For additional information about the Bible or or if you are in need of encouragement, contact Susan via e-mail at dsbishop.1@juno.com
© 2005. No part of this page within No Tears In Heaven may be reproduced or reused in any way, electronic or print, without the expressed permission of the webmaster of No Tears In Heaven, or its respective author.