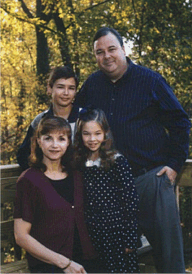 "It is good for me that I have been afflicted; that I might learn thy statutes." (Psalm 119:71)
Mrs. Bonney Block had hip replacement surgery close to 20 years ago to remedy damage from an automobile accident. Because of complications Mrs. Block could walk only with great pain, but she never complained.
For many years it seemed nothing could be done, but recently she learned that another set of operations could perhaps remedy the problem. The surgeries were successful, and she is gradually losing the pain that she has lived with for years. Over a period of time she will also lose her canes. She is quick to offer praise to God and encourage others rather than think of herself.
---
Treasures Amidst Affliction
by
Mrs. Bonney Block 
 " It is good for me that I have been afflicted; that I might learn thy statutes."  (Psalm 119:71)
How can afflictions be "good" we often ask ourselves? Through the years, I have asked the Lord "Why?" for several different circumstances. In the fall of 1977, I began experiencing pain in my hip joints and could not put weight on my legs without falling down. A whiplash I had received in a car accident caused nerve damage to my hip joints. All the cartilage in my hips deteriorated, causing the bones to grow together, leaving no moveable joints. I was bent over from the waist about 30 degrees and could move my legs from only my knees down. Walking for me was more like "waddling." The doctors wouldn't perform hip replacement surgery because at that time all they had were joints that were cemented in place and didn't last very long. If I had gone that route, then it would be necessary to replace joints every few years, and each time would involve more removal of the hip bone – to give a clean surface for cementing the new one. Eventually, they told me there would be no more bone and nothing to cement the implant to!
It was in this "crooked condition" that the Lord gave me my first treasure – my gem – my husband, Jim Block. Together we pursued the possibility of something more that could be done to help improve my quality of life. Six years after my initial problems (January 1, 1984), the FDA approved a type of hip implant that was cement less! On June 6, 1984, I had bilateral hip replacement surgery. My physical therapy continues even today. Although I now have moveable joints again, there was and is so much atrophy from the muscles and ligaments that weren't used for six and a half years, that I still have difficulty moving and walking "normally." My condition affects practically everything I do, from putting on my socks to getting in and out of a chair. I have learned new ways of doing things so that I don't have to be so dependent on someone else.
There are many days so intense with pain that all I can do is pray and cry. I read a quote once that said; "God speaks to us in our joy but shouts to us in our pain." Often I've been confined to bed and have lain there looking at the ceiling thinking that when you're flat on your back in bed, there is no where else to look but up. I have thought that when I get to heaven one of the first things I'd like to ask the Lord is "Why do I have this affliction?" We cannot know all the answers to some things in this lifetime. God may conceal the purpose of His ways, but His ways are not without purpose! I am reminded of 1 Corinthians 10:13 which says that God will make a way for us to bear it. His grace has always been sufficient!
After I recuperated from hip surgery, Jim and I wanted to start a family. But it didn't happen! After many, many months of praying and wanting and testing, the doctor finally suggested fertility drugs. My biggest fear was multiple births – in my condition! Finally the Lord answered our prayers but premature labor confined me to bed during the last month of pregnancy. March 28, 1988, God gave me my second treasure, Jared William Block.
The week before Jared turned two years old, we lost a baby through a miscarriage. My third treasure was a baby conceived after months of fertility drugs as well. As soon as I had recuperated from the miscarriage, the doctors said that there was no reason why we shouldn't try again. So we went back to the fertility drugs – and we conceived our third baby. Since childbirth for me is always a planned C-section, I routinely had ultrasounds to determine and better predict the delivery date. On January 10,1991, during a routine ultrasound it was discovered that something went wrong with our baby. A specialist sent me that afternoon for a second ultrasound. Only God's grace helped me to return to my teaching duties between the two appointments. (That second ultrasound seemed like the longest afternoon of my life.) The ultrasound confirmed that something was wrong with the baby. Some of the organs didn't look right. About two weeks later I started having premature labor and was put on a monitoring device to keep track of my contractions.
Shortly after midnight on February 4, 1991, I had a very sharp pain that sent me to the hospital about 3a.m. After examination the doctor said that I needed to go by ambulance to Greenville Memorial Hospital because of their neonatal unit – just in case the baby would be born that day. In my mind, I laughed! I knew I couldn't have the baby that early. I still had six weeks of pregnancy left! During the course of the next twelve hours, every major organ in my body began to shut down. I had a very sudden and severe case of toxemia, and my blood pressure was dangerously high. I was informed that the baby needed to be delivered immediately or we could both die. So instead of a planned C-section on March 21, I had an emergency C-section on February 4.
Justin James, my fourth treasure was born at 8:45 P.M. While I was in the recovery room, the doctors shared with Jim and me the very shocking news that our baby had a condition, which was "incompatible with life." Never once in those four weeks since the bad ultrasound did I ever entertain the thought that my baby would die. I just kept wondering how bad would he be. Would he be retarded? Jim was concerned for me that I would have difficulty caring for a "special needs" baby when I was so limited physically.
Justin James was a trisomy 13 baby. Every cell in his body had one extra chromosome and the life expectancy for a baby like this is four to six months at the most. The doctors told us that if he could live, he would only be a vegetable. And yet, he would turn his head toward Jim's voice when Jim talked to him there in the neonatal intensive care unit.
I got to see him for only a few seconds after he was born and then the next day I saw him hooked up to all his machines. I didn't have a chance to hold him until 1 A.M. on February 7. The nurses came to my room for me because his condition was deteriorating. Since the toxemia had caused swelling all over my body, I had not been able to cry. After the tubes came out, some of the swelling subsided and as the nurses were wheeling me to the NICU I began crying and couldn't stop. I've never been so out of control in my life! Sitting there in my wheel chair holding this little life that was only 2 lbs. 4 oz. and a mere 14 inches long. I couldn't see why God allowed me to carry this baby so long only to have it end this way.
Justin James looked so normal on the outside; that made it harder to understand why everything was wrong on the inside. (I later used this to teach my students that Satan does the same thing with sin – makes it look appealing on the outside, but in the end, it can be destructive.)
I sat there most of the night holding him, crying and thinking this was just a nightmare and I would soon wake up. About 5A.M. I went back to my room because of his worsening condition. I didn't think I could bear to be there when he actually died. At 5:45 A.M. after a short life of only two and a half days, Justin James was taken home to be with the Lord. When we learned of his condition, Jim and I began praying that the Lord would take him home. But now it has the hardest day of my life. We knew it was best, but picking out a burial plot was not how we expected the pregnancy to end.
God gave us such grace during Justin's burial service! It began to rain just as we were leaving for the cemetery. I'd always thought it was depressing to see funeral tents on a rainy day. A funeral is bad enough, but in the rain it's worse. Someone handed me a card before the service that said "think of the raindrops as teardrops from all the angels in heaven who are so glad to have a new baby to hold." That helped me to deal with the rain. I'll never forget the overwhelming emotion I felt sitting by my baby's grave and seeing a hundred people standing there with umbrellas in the pouring rain. People cared and expressed their care and concern for us in many ways.
I found such strength from reading all the sympathy cards that came to us from all over the country. I learned that many people I knew had experienced the loss of a child. I could listen to them quote Romans 8:28 "And we know that all things work together for good to them that love God, to them who are called according to His purpose." because I knew they had been there. When someone else tried that verse on me I wanted to shout in my sorrow, "you don't know how it feels!" Many people just didn't say anything. I'm sure it's because they didn't know what to say. The best thing you can say is "I'm praying for you even though I don't know how you feel."
Prayer is what got us through. It was definitely the hardest thing I've ever gone through, and I really feel like I was closer to the Lord at that time than any other time in my life. Psalm 56:3 says, "What time I am afraid, I will trust in thee."
At least three times during 1991, I was able to minister to women who experienced the loss of a baby. I cried for them and with them and lived their experience by reliving my own each time. I've had many opportunities since then to help others because of what the Lord allowed us to go through. I collected all the Scripture verses from the sympathy cards that people sent us, and I always include a copy of those verses now in sympathy cards that I send to others.
In June of that year the doctor said that physically I was ready to try for another baby, if I wanted to. I didn't think I was ready emotionally, though. In the fall, I remember thinking that I'd be content with just Jared. After all, some couples don't even have one child, so I should count my blessings and be content. I guess the Lord was just waiting for my contentedness, because it wasn't long before we got the surprise of our lives. I was pregnant – and for the first time without fertility drugs! We tried not to get our hopes up after having lost two babies. Other than a lot of swelling, premature labor, and more contraction monitoring devices, it was a fairly normal pregnancy.
On June 15, 1992, Alyssa Marie Block was born – my fifth treasure from the Lord. I remember thinking that this was "exceedingly abundantly above all that we [could] ask or think."
My children have heard me tell people they are my treasures. One day when Jared was much younger, he asked me what a treasure was. I told him that it is something you can't live without! Alyssa Marie refers to Jared as my "boy treasure" and to herself as my "girl treasure."
Once I asked my pastor's wife, Mrs. Conley, why God allowed me to go through these trials? Her answer was "so that He can be glorified." There are so many things in this lifetime that we just don't have answers for, but God does know the end from the beginning, and I am in the process of learning that I have to only trust Him – there is no other choice.
Be this purpose of my soul,
My solemn, my determined choice
To yield to God's supreme control
And in my every trial rejoice.- Anon
I can say with the psalmist, In you , O Lord, I put my trust." In the midst of trouble God has always given me strength, even in my tears. Because of the struggles I've had to face, I've been able to teach things to my students that I wouldn't have been able to otherwise. The afflictions have forced me to lean on Him and to rely totally on Him. God is still using Psalm 119.71 in my life today. "It is good for me to be afflicted; that I might learn thy statutes."
 Over the years I have collected quotes that have been helpful to me here are a few of them:
"The vine dresser is closest to the vine when he is pruning it."
"Be assured, if you walk with Him, and look to Him, and expect help from Him, He will never
fail you."
"Give your troubles to God; He will be up all night anyway."
"The way I see it, if you want the rainbow, you gotta put up with the rain."
"I don't think of all the misery but of all the beauty that still remains."
"Arrange whatever pieces come your way."
"When we stop saying, 'Why me?' and start saying, 'Why not me?' we take the first step to
glorifying God in our trials."
"Our needs can never exhaust God's supply."
"Well be steady in the storm if we're anchored to Christ the rock."
"Our troubles seem smaller when we remember the greatness of the Lord."
"When God gives a burden, He always gives the grace to bear it."
"Afflictions become blessings when blended with acceptance."
"God may have to break us in order to make us."
"Trials are the soil in which faith can flourish."
"Adversities are often blessings in disguise."
"God often uses a set back to move us ahead."
"Those who bless God in their trials will be blessed by God through their trials."
---
© 2002.  No part of this page within No Tears In Heaven may be reproduced or reused in any way, electronic or print, without the expressed permission of the webmaster of No Tears In Heaven, or its respective author.