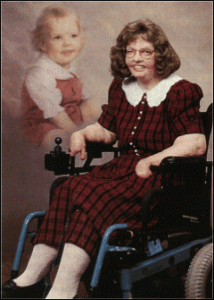 "Being confident of this very thing, that he which hath begun a good work in you will perform it until the day of Jesus Christ."    Philippians 1:6
Miss Becky Vaughn is a native of and currently resides in the Greenville, SC area. She is a 1994 graduate of Hidden Treasure Christian School, attended Northland Baptist Bible College, and is presently a sophomore at Bob Jones University pursuing a degree in creative writing. October 17, 2002 was a very special day when Becky earned her driver's license. In March 2003 she was honored at BJU by being chosen to receive the Overcomer's Award and becoming a member of the prestigious President's Club. Becky's constant companion is her golden retriever assistance dog, Charlie. He's trained to open doors and pick up things for Becky as she drives her motorized wheelchair. Becky is the daughter of Dr. and Mrs. John C. Vaughn, and has four siblings.
Everything I Need To Do God's Will
by
I do not remember anything about the night of May 20th, 1978. That was the night the Lord chose our family, the Vaughns, for a special and unique task. I was only two years old. I am very grateful that I don't have memories, but I have had the blessings that have come from that night.
On the evening of May 20th, 1978 my mother and I were severely burned in a house fire. My dad was a young pastor of a small church. He was out visiting church members on that Saturday evening. My older brother and sister were playing in the opposite end of the house. My mom was baking a cake in the kitchen and I was sitting on the floor playing and watching her. My dad was a student at Bob Jones University, paying his tuition and supporting our family through preaching and also through a side job of doing yard work. Before he left that evening, he moved the gas can he used for the lawnmower from the porch outside to the utility room inside. He did not want the kids from the neighborhood to get into it. He put the can up high so that no one would be able to reach it.
As I was playing that evening, I wandered from my mom's gaze into the adjacent utility room. Like all two-year-olds, I was curious and I managed to reach the gas can, pull it down, and open it. The liquid spilled out into the kitchen and flowed underneath the stove. The gasoline fumes were ignited by the heat of the oven. My mother and I both suffered severe burns over most of our bodies, but we managed to get out of the house.
My mom and I would spend the next year in separate hospitals recuperating, getting skin grafts, and regaining strength. The Lord provided the money for our hospital bills completely. The Shriners at the Shriners Burns Institute, a Children's Hospital in Cincinnati Ohio, took care of all my medical bills. Since then, I have spent an additional three months of my life n Cincinnati having over 60 corrective surgeries. Those initial days were hard for my mom and I both. But as I mentioned before, I'm very grateful to the Lord that He did not give me any memories of those days.
A day I do remember though was Father's Day in 1982. On this day I pushed my walker down the aisle of my church where my dad was giving the invitation after his sermon that morning. I told him that I wanted to accept Christ as my Saviour. I was six years old the day I accepted the Lord into my heart and became His child. Even at that young age, I knew that the physical suffering I had endured would not save me. I had to accept what Christ had done for me on the cross for salvation.
When I was five and it was time for me to begin school, there was not a Christian school for me to attend. There was a lot of public schools with special education classes, but my dad knew that I would not be happy in the public special education environment. He knew that the other kids would make fun of me. He also knew that I would not learn the Bible. A friend of his, Dr. Bill Maher, encouraged my father to start a Christian special education school. My dad followed the advice of Dr. Maher, and the leading of God, and started Hidden Treasure Christian School in 1981.
I attended Hidden Treasure from the age of five until I graduated from high school in 1994. As I grew up there, I felt accepted and loved. I knew that my teachers loved me and wanted God's best for me.
The school is called Hidden Treasure because of the verse that my dad claimed , 2nd Corinthians 4:7, "But we have this treasure in earthen vessels that the excellency of power may be of God and not of us." From this verse my dad adopted the principle for Hidden Treasure, "I have everything I need to do God's will for my life."
I am currently attending Bob Jones University, majoring in creative writing. After I receive my degree, my goal is to some day write a book about God's provision for me throughout my life. My life verse is Philippians 1:6, "Being confident of this very thing, that he which hath begun a good work in you will perform it until the day of Jesus Christ." This wonderful verse promises me that God began a good work in me twenty-five years ago, and he is working out this special plan in my life day by day, and I must never give up. I must never stop trusting in Him to take care of me!
© 2009.  No part of this page within No Tears In Heaven may be reproduced or reused in any way, electronic or print, without the expressed permission of the webmaster of No Tears In Heaven, or its respective author.