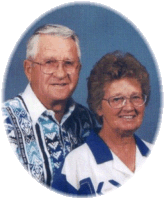 Tom and Donna Wimer
"When thou passest through the waters, I [will be] with thee; and through the rivers, they shall not overflow thee: when thou walkest through the fire, thou shalt not be burned; neither shall the flame kindle upon thee. For I [am] the LORD thy God, the Holy One of Israel, thy Saviour: I gave Egypt [for] thy ransom, Ethiopia and Seba for thee." Isaiah 43:2-3
Standing On The Edge Of Eternity
by Curt and Bev Wimer Doherty
Tom and Donna Wimer had been fighting summer prairie fires together in Rosebud County , Montana, since they were married more than fifty years ago. Whether the fire was on their TW Quarter Circle Ranch or on a neighbors place, they were there. It was just a part of the local definition of "neighboring." The summer had been another dry one with no measurable rain for more than two months, and fires were common.
Tom and Donna were driving home from church that first Sunday in September 1996, when they spotted a fire on the neighbor's place across Armells's Creek from their ranch. They hurried home and jumped into the four- wheel-drive pickup they had outfitted with a 200 gallon water tank and pumper, not even changing their church clothes. The fire was across the highway, a mile or so back in the hills along Corral Creek.
Tom and Donna Wimer…early years.
There were already several neighbors fighting the fire, Mick Brady got in with Tom and Donna to help run the pumper. As they were trying to get to the top of a ridge to hit a hot spot , a rear tire went flat. Tom quickly jacked up the back of the pickup and began loosening a lug nut, Donna started for the ridge, scanning the hills for some help, and Mick was ready with the hose.
Just then, the wind shifted and the fire down by the creek started toward them, in places traveling thirty feet per second. At that moment fire also came over the top of the ridge behind them. An intense updraft must have been created between the two fires, drawing them together even faster. Tom, Donna. and Mick were standing on the edge of eternity, where life and death are one step apart. The fire was on them so fast they had no time to think,  there was barely time to react. Mick immediately saw that the fire was too powerful for his spray of water. He dropped the hose, plunged headlong into the wall of fire coming from the creek, and ran to the black earth behind it. He made it, though he was severely burned on his arms and face.
Tom ran to the front of the pickup where the fire caught and dropped him, and Donna was twenty feet up the hill. The authorities said she didn't last more than three or four seconds before she stepped across the edge and into eternity. She had no time to remember the past, or to suffer the present, or to plan for eternity. For Donna it was over.
Tom had second and third degree burns over 90 percent of his body, and he lived slightly more than twelve hours. He had time to express his love for his family, to confirm his relationship with Jesus Christ and to demonstrate the peace he had facing death. Then he to went into eternity.
Tom and Donna were ready to take this step. It was not because of all the community work they had done, nor the way they had neighbored so faithfully over the years. It was not because of the way they had tried to deal honestly and fairly with those around them. They knew the Bible says that isn't enough. Do you know what is enough? Are you prepared for the time when you will come to the far edge of this life?
Please take a moment and read the simple truths from God's Word, the Bible. This may be your last chance to get ready.
The Bible says that God has created heaven a perfect place and will not allow even one lie to enter ( Revelation 21:27 ). " Being good" isn't good enough. Sin is characterized in the Bible as anything short of the perfection of God. The hideous crimes of the world's infamous murderers are obviously sins, but so are little things we do every day. If you have ever sinned once, and we all have, that one sin will keep you out of heaven. All good things you can do with your entire lifetime cannot erase even one of those sins.
God prepared hell as a place of eternal punishment for Satan and his angels, but the person who dies in his sin, who lacks the required perfection, will also suffer in the fires of hell. God 's righteousness demands that all sin must be separated from Him in hell forever ( Revelation 20: 10-15 )
How then can man deserve heaven? Every person on earth has sinned many times, and no matter how good he is, he is still deserving of this lake of fire. Since no one is perfect, no one deserves to go to heaven. ( Romans 3: 10-23 ).
God's justice demands that our sin be punished, but He loves each one of us and does not want us to go to hell. God's justice and God's love appear to conflict, presenting a problem that only God Himself can solve ( Romans 6: 23 ).
God did solve this conflict in the person of the Lord Jesus Christ, the eternal Son of God. The righteous Judge of the universe took on human flesh, lived a sinless, perfect, and allowed Himself to be nailed to the cross. There on the cross He suffered all the punishment of eternal hell that you and I deserve to suffer. On the cross He paid every bit of your sin debt. On the cross He died in your place and fully suffered your eternal penalty. ( 1 Corinthians 15: 3) .
Jesus Christ's complete payment for your sin made it so that there is nothing left for you to do but accept it ( John 1:12 ). Church membership cannot save you. Doing good deed cannot save you ( Ephesians 2: 8-9 ). None of these things can make you perfect. Only Jesus Christ, who took all your sin upon Himself and paid for it completely on the cross, can satisfy God's justice. Now He freely offers you His perfect righteousness ( II Corinthians 5:21 ) .
Are you fully ready today to step into eternity? Do you have the complete assurance that if you were to die today you would go to heaven? Don't wait until you realize you are falling into eternity, for then it will be too late. The Lord Jesus Christ offers you eternal life as a gift. ( John 3 :16 ). Won't you put your trust in Him now?
If you would like more information on how you can know God, please write to us for free Christian literature:
Curt and Bev Wimer Doherty
213 Bridwell Way
Travelers Rest, SC 29690
Phone ( 864 ) 834- 3268
or e-mail us at : twodot@bellsouth.net
If you would like to know more about the peace Tom and Donna Wimer had, while they were faced with extreme circumstances, then please visit Promise of Hope and discover what the Bible has to say concerning that moment in time every individual will face as they are standing on the edge of eternity.
If you would like to contact Curt and Bev Wimer Doherty please email them at twodot@bellsouth.net
© 2009.  No part of this page within No Tears In Heaven may be reproduced or reused in any way, electronic or print, without the expressed permission of the webmaster of No Tears In Heaven, or its respective author.