Luke Visits with the Honorable Governor of South Carolina, Nikki Haley
On March 11, 2014- Luke had the honor of meeting Governor Nikki Haley-former United States Ambassador to the United Nations. Luke's journey has been one of encouragement and hope for others. But March 11th was a blessing for Luke, having an opportunity in meeting an honorable and joyful person who has a sincere desire to serve others: Governor Nikki Haley.
Luke is pictured above, presenting to Governor Haley an illustration inspired by Luke. The inscription contained with the illustration is one of the Governor's life verses: "I can do all things through Christ who strengthens me." Philippians 4:13
The Governor is a Clemson University graduate and this gave Luke an opportunity in sharing his personal testimony how Clemson University students rally to the support  of Children's Hospital with the annual Dance Marathon Fundraising event .
In a day and time where leadership is remiss of biblical principles it is encouraging to meet an individual who leads from the heart with conviction, courage and compassion; the Honorable Governor of South Carolina – Nikki Halley.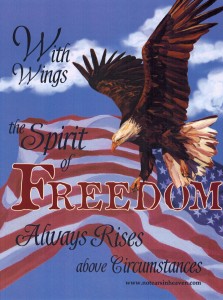 Illustration Inspired by Luke Gribick
© 2014.  No part of this page within No Tears In Heaven may be reproduced or reused in any way, electronic or print, without the expressed permission of the webmaster of No Tears In Heaven, or its respective author.