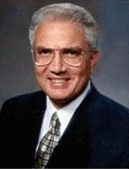 Pastor Emeritus
Dr. John C. Vaughn pastored the Faith Baptist Church in Greenville, SC from 1977 to early 2007. During the time of Brenda's declining health, the Lord led Pastor Vaughn to begin a transition process in preparation for his retirement. His current title is Pastor Emeritus. Under his leadership, Faith Baptist Church has grown from 40 members to over 1,400. In addition to over 70 outreach ministries conducted by Faith Baptist Church there are over 80 missionaries and ministries supported around the world.
In May of 1978, the Vaughn's home was destroyed by fire, leaving Mrs. Vaughn and their two-year-old daughter Becky severely burned. This experience has brought into existence Hidden Treasure Christian School, a ministry of special education.
The Fiery Trial is an audio tape of Dr. Vaughn's personal testimony detailing the events of May, 1978, a testimony of "Triumph over Tragedy!" After listening to The Fiery Trial, please take a moment to visit the testimony of Brenda Vaughn and Becky Vaughn.
"That the trial of your faith, being much more precious than gold that perisheth, though it be tried with fire, might be found unto praise and honor and glory at the appearing of Jesus Christ." (1 Peter 1:7)
If you are interested in purchasing a copy of "The Fiery Trial" or "More Precious Than Gold" please call (864) 322-0700 or write to:
Faith Baptist Church
500 West Lee Road
Taylors, SC, 29687
When requesting information about the cassette or book, please mention that you learned of "The Fiery Trial" from the website, No Tears In Heaven.