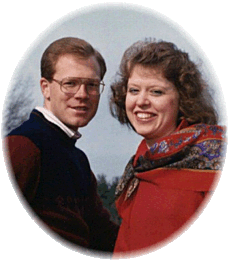 " [As for] God, his way [is] perfect: the word of the LORD is tried: he [is] a buckler to all those that trust in him." Psalm 18:30
Just One Man
by Cindy Melius
As for God, his way is perfect: the word of the LORD is tried: he is a buckler to all those that trust in him. This is an easy verse to claim when things are going relatively smooth. However, when a young couple faces the news of cancer within six months of marriage, a promise such as this is put to the test.
I first met my husband, Steve, when we were both in grad school. I was immediately struck by his seeming godliness and character, and the impression strengthened as I got to know him better. I found out that during his sophomore year of college, Steve had been diagnosed with Hodgkin disease. Just days before the diagnosis, Steve had begged God for His power, telling Him that he was willing to have an incurable disease if that's what it took. God took him up on his offer, and Steve suffered with this disease off and on (mostly on) for the next 11 years. He suffered his first recurrence during our first year of grad school. After he went into remission and came back to school, we began dating. Another recurrence just months later made us come to grips with God's will for our lives, but it didn't take long for us to realize God had called us together. Chemotherapy sent him back into remission, and we were married shortly thereafter. Just six months after marriage, we were faced with the news that the cancer had again returned. For the next four and a half years, we dealt with this illness until the Lord called Steve home April 13, 1994.
Steve was a preacher, and for the last nine months of his life , he pastored a small church the dream of his heart. During his eleven years of illness, he continued ministering and left an eternal impact on many people. So much promise and potential, yet God called him Home at the age of 31. Was all his hard work and preparation for the ministry wasted? Absolutely not! Steve packed more into 31 years than most of the rest of us pack into a lifetime. He has left a legacy of single mindedness for God and zeal for the ministry that still inspires many, including myself.
His life could be summarized using Paul's words in Philippians 3: 13-14 Brethren, I count not myself to have apprehended: but [this] one thing [I do], forgetting those things which are behind, and reaching forth unto those things which are before, I press toward the mark for the prize of the high calling of God in Christ Jesus. Such a path may include suffering, even death, but the prize is Christ, which makes it all worthwhile.Promise of Hope
If you would like to know more about how Steve and Cindy managed to keep their trust in the Lord, that His way is perfect no matter what the circumstances, then please visit
For an expanded version of Just One Man by Cindy Melius please visit our link below, to Frontline Magazine.

© 2009. No part of this page within No Tears In Heaven may be reproduced or reused in any way, electronic or print, without the expressed permission of the webmaster of No Tears In Heaven, or its respective author.