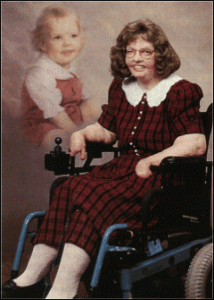 God has a unique ministry ahead for me and it is so exactly suited for me that only I can do it.  Because I needed special training for serving the Lord, my church founded Hidden Treasure Christian School to meet the needs of handicapped children.  I graduated from Hidden Treasure in May of 1994 and I am pursuing further education.
My parents have written a book about our family's experience.  More Precious Than Gold shows how God takes a suffering in the lives of Christians and turns it into spiritual blessings that are beyond measure.
If you would like more information on the Bible, your spiritual life, More Precious Than Gold or Hidden Treasure Christian School, write to:
500 West Lee Road, Taylors, SC 29687
We will send a personal reply.
All textual and pictorial content on this page taken from the "Hidden Treasure" tract by Becky Vaughn.
© 2009.  No part of this page within No Tears In Heaven may be reproduced or reused in any way, electronic or print, without the expressed permission of the webmaster of No Tears In Heaven, or its respective author.